DATA
Drive Performance
Dimensions (L x W x H)
Weight
Procedures
Sawband
Sawband Inclination
Cutting Speed
Feedrate
Rapid Advance / Return Movement
Workspace max.
Workspace Range Square
Workplace Range Profile
Working Range min.
Mitre Range
Tools
Degree of Automation
Automatic Outfeed
Automatic Infeed
Material Class
Process
FEATURES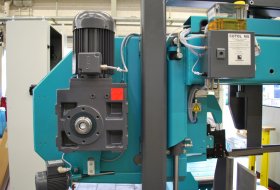 PRECISE, INFINITELY-VARIABLE FEEDRATES
Strong drive power for increased cutting speed
Infinitely-variable saw band feed can be adjusted directly on the saw frame
Long saw band life even with the most varied material dimensions
---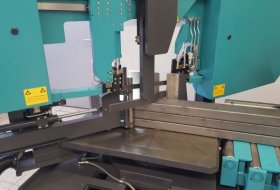 FAST AND PRECISE MITRE ADJUSTMENT
Manual mitre cut adjustment
Hydraulic clamping through push button on the saw
---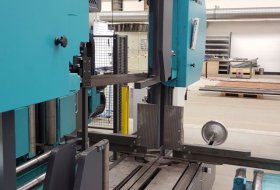 SELF-ADJUSTING PROFILE CLAMPING
Hydraulic profile clamping within the automatic cycle control (clamping, sawing, unclamping)
Clamping of the workpiece immediately adjacent to the saw band for precise cuts, even with the shortest cutting lengths
Clamping and sawing of layers and bundles possible
---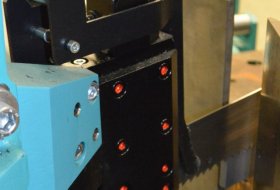 'SAW BAND FRIENDLY' OPERATION
Measurement in both saw band guides
Cutting-pressure selection adjustable on the saw frame
Self-regulating feed rate across the range of saw band contact lengths
---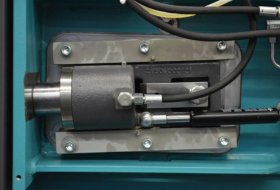 SAW BAND RELIEF WHEN IDLING
Electronically monitored, with automatic tension reduction when saw band is idle
Automatic shut-off of the saw drive in case of blade breakage
Long saw band life
---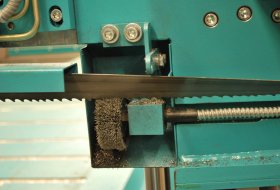 SAW BAND PROTECTED FROM WEAR
Brush separately driven by three-phase motor
Long saw band life and excellent cut quality
---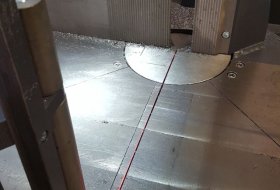 VISUAL DISPLAY OF THE CUTTING EDGE
Processing of material via feed creep rate through control keys directly on the saw frame
Sawing on tracings possible
---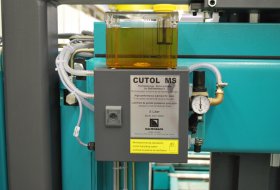 VIRTUALLY DRY WORKPIECE
Optimum tool lubrication when sawing profiles
Can be installed in addition to flood coolant device
Disposal of lubricant unnecessary
Long saw band life
---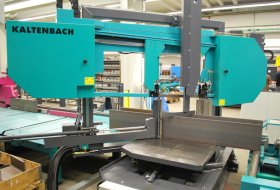 FAST AND PRECISE MITRE ADJUSTMENT
Adjustment on free-standing control console
Measurement via absolute rotary encoder and frequency controlled motor
Automatic, hydraulic clamping of the machine after reaching the mitre setting
Reduced non-productive times when changing mitres
---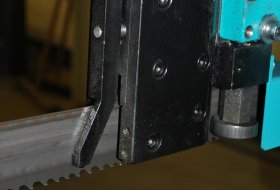 BAND DEFLECTION MONITORING
Control of cutting path through the material when saw band begins to wear
Input of threshold values on the operating console in addition to cycle interruption if maximum parameters are exceeded
High cut quality, no material waste
---
IN-/OUTFEED SIDE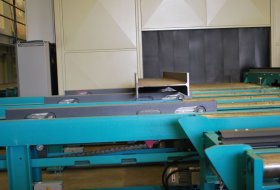 CONNECTION TO STEEL ROLLER CONVEYOR
Cross Transport by Means of Lift-and-Carry System (As an Alternative to Drag Chains)
---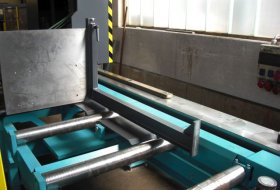 STANDARD MEASURING SYSTEM ON THE FEED SIDE FOR SAWING MACHINES
Positioning drive through frequency regulated three-phase motor with absolute rotary encoder
Automatic NC positioning via machine software
Rapid pivoting of the squaring arm
Manual adapter for processing short lengths
---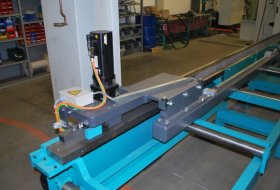 STANDARD MEASURING SYSTEM ON THE FEED SIDE
M 150 P Sliding Measuring Carriage with Pusher Plate
---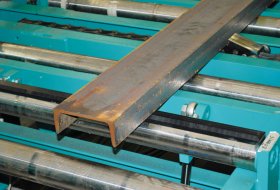 LOW-NOISE MATERIAL CROSS TRANSPORT
By lightly raising the material using polyamide-coated rollers integrated into the roller conveyor, the traditional "steel on steel" noise from cross transporting profiles is significantly reduced. Transport technology in steel construction and steel trading will be revolutionized through this new system.
Fully-automatic control
Contributes to enhanced occupational safety and the protection of personnel and the environment
---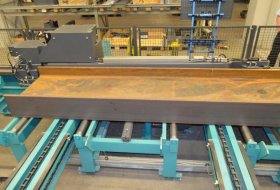 SPACE SAVING MEASURING SYSTEM ON THE FEED SIDE
M 152 GG Sliding Measuring Carriage with Two Grippers
---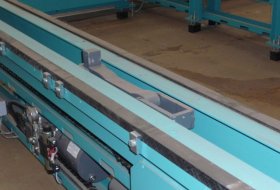 CROSS TRANSPORT WITH LIFTING PINS
Cross Transport with lifting pins
---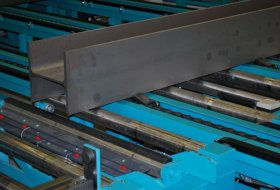 FAST MATERIAL CROSS TRANSPORT
Material stock in heavy-duty steel construction
Sliding rails of synthetic material (polyamide) for low-noise material cross transport
Drag chains with transport claws
Drive system with continuously-variable frequency-controlled gear motor
---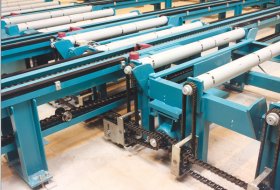 T 13 TRANSPORT SYSTEM FOR STEEL CONSTRUCTION AND STEEL SERVICE CENTERS
T 13 Modular Expandable Conveyor Roller System
---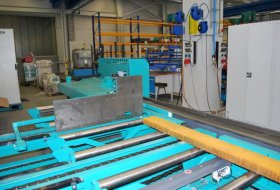 UNIVERSAL MEASURING SYSTEM ON THE OUTFEED SIDE FOR SAWING MACHINES
Positioning drive through servo motor with absolute rotary encoder
Automatic NC positioning via machine software
Rapid pivoting of the squaring arm
Automatically-extending adapter for processing short lengths
Material weights of more than 8 t can be processed through additional brake cylinder (optional)
---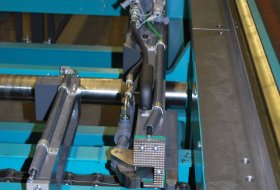 UNIVERSAL MEASURING SYSTEM ON THE FEED SIDE
M 151 G Sliding Measuring Carriage with Gripper
---
SOFTWARE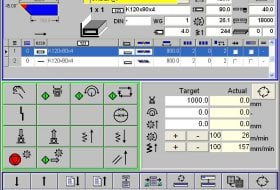 PROFICUT – EASY, USER FRIENDLY MACHINE OPERATION
Programming of orders via color touchscreen with large keypads directly on the machine control console
---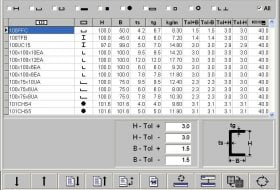 PROFICUT – PROFILE DATABASE
Comprehensive profile database
Easily expandable
Graphic display of workpiece forms
---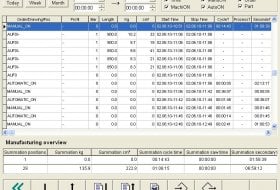 PROFICUT – PRODUCTION DATA REPORT
Recording of production times of individual pieces or entire orders
---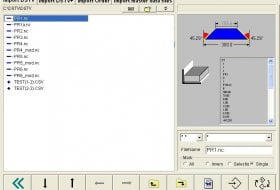 PROFICUT – DATA TRANSFER AND DATA RESPONSE
Data input directly on the machine control console
Data import in DSTV or DSTV+ format
Data export of previously produced parts in DSTV feedback format to any directory
---
SERVICE
HELPDESK MODULE
Whether by telephone, email or remote access, with the Helpdesk module you can take advantage of the expertise from our helpdesk team, for telephone advice and support. With remote access, we can fix (in 90% of cases) the problem quickly ensuring the highest possible system availability.
Wide-ranging and professional fault diagnostics and solution.
Shorter and less frequent service calls through targeted preparation.
Individual advice and support.
MAINTENANCE MODULE
Minimize your downtime and achieve the best possible quality processing results from your KALTENBACH machine, always maintained by us with regular, expert inspection and maintenance – Always at competitive costs!
YOU WILL NEVER NEED TO WORRY ABOUT MAINTENANCE WITH THIS MODULE.
Minimum plant downtime.
Transparent costs.
Cost reduction through early fault detection and elimination.
SPARE PARTS & TOOLS MODULE
Tools, wear parts and consumables. We can give comprehensive advice on all of your needs, their technical suitability and their optimum use. By request we provide you with a monthly, quarterly or annual contract. Spare parts at competitive prices.
WITH ORIGINAL KALTENBACH PARTS YOUR MACHINE LIVES LONGER.
THE SPARE PARTS MODULE WILL ALSO SAVE YOU MONEY.
Reliable and fast delivery.
Guaranteed spare parts supply.
TRAINING & EDUCATION MODULE
Every machine is only as good as it's operator. Regular refresher – Training and / or technology training for your operators and maintenance staff, will not only improve the productivity of your KALTENBACH machine, but also increases the professional qualifications of your employees.
EXPERTISE AND BUILD YOUR KNOWLEDGE THROUGH THE TRAINING MODULE.
Specially tailored to your needs and equipment.
Increasing the life of the machine.
Reducing errors, downtime and setup times.
Ensuring consistent processing and product quality.
Ensuring Factory Settings are maintained by highly trained maintenance personnel.