Kaltenbach Sprint A3008 Shotblast Machine
Data
Procedures
Shotblasting
Workspace max.
3.200 x 600 mm
Working Range Plate
3.000 x 30 mm
Working Range Profile
1.000 x 420 mm
Passage Range
3.300 x 380 mm / 2500 x 630 mm
Number of Turbines
8 Pieces
Drive Performance per Turbine
11 kW
Degree of Automation
Automatic Infeed
Automatic Outfeed
Full-Automatic
Materialclass
Steel
Process
Profiles
Solid Material
Plate
See It Work
In-/Outfeed Side
T 13 Transport System for Steel Construction and Steel Service Centers
T 13 Modular Expandable Conveyor Roller System
---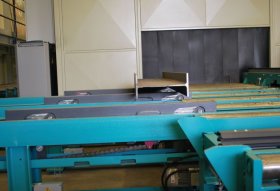 Connection to Steel Roller Conveyor
Cross Transport by Means of Lift-and-Carry System (As an Alternative to Drag Chains)
---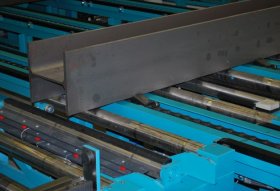 Fast Material Cross Transport
Material stock in heavy-duty steel construction
Sliding rails of synthetic material (polyamide) for low-noise material cross transport
Drag chains with transport claws
Drive system with continuously-variable frequency-controlled gear motor
---
Transport System
Transport system T15
---
Service
HELPDESK MODULE
Whether by telephone, email or remote access, with the Helpdesk module you can take advantage of the expertise from our helpdesk team, for telephone advice and support. With remote access we can fix (in 90% of cases) the problem quickly ensuring the highest possible system availability.
Wide ranging and professional fault diagnostics and solution.
Shorter and less frequent service calls through targeted preparation.
Individual advice and support.
MAINTENANCE MODULE
Minimize your downtime and achieve the best possible quality processing results from your KALTENBACH machine, always maintained by us with regular, expert inspection and maintenance – Always at competitive costs!
YOU WILL NEVER NEED TO WORRY ABOUT MAINTENANCE WITH THIS MODULE.
Minimum plant downtime.
Transparent costs.
Cost reduction through early fault detection and elimination.
SPARE PARTS & TOOLS MODULE
Tools, wear parts and consumables. We can give comprehensive advice on all of your needs, their technical suitability and their optimum use. By request we provide you with a monthly, quarterly or annual contract. Spare parts at competitive prices.
WITH ORIGINAL KALTENBACH PARTS YOUR MACHINE LIVES LONGER.
THE SPARE PARTS MODULE WILL ALSO SAVE YOU MONEY.
Reliable and fast delivery.
Guaranteed spare parts supply.
TRAINING & EDUCATION MODULE
Every machine is only as good as it's operator. Regular refresher – Training and / or technology training for your operators and maintenance staff, will not only improve the productivity of your KALTENBACH machine, but also increases the professional qualifications of your employees.
EXPERTISE AND BUILD YOUR KNOWLEDGE THROUGH THE TRAINING MODULE.
Specially tailored to your needs and equipment.
Increasing the life of the machine.
Reducing errors, downtime and setup times.
Ensuring consistent processing and product quality.
Ensuring Factory Settings are maintained by highly trained maintenance personnel.
Why Buy?
Click the testimonials and case studies to see the positive gains your peers are gaining:
Automotive Sector, Crane Manufacturer, Kaltenbach, Machine Construction, On / Offshore, Rolling Mills, Shipyard, Shot Blasting, Steel Construction / Fabrication, Steel Service Centre, Surface Treatment Service Centre
Kaltenbach Sprint A3008 Shotblast Machine
Shotblast System Operating Efficiency and with Optimum Cleaning Effect
Capacity range [mm]: 3200 x 600 and Number of Turbines: 8
BENEFITS AT A GLANCE
Aperture size (w x h): 3.300 x 380 / 2.500 x 630 mm
Eight turbines (11 kW each)
Suitable for a throughput of from 10,000 to 20,000 tons per year
Triple housing (steel / manganese steel / exchangeable manganese-steel internal lining)
Maintenance and user friendly
Auditable, deliverable, measurable and evidence based metrics will be provided so your strategic team can calculate the ROI, capacity increase and man hours reduced from a Kaltenbach Sprint A3008 Shotblast Machine. SMS will evaluate your current position and ongoing strategy, we will then assess any gaps to successfully deliver to your business and your clients.