Kaltenbach KF 2607 E Plate Processing Centre
Data
Dimensions (L x W x H)
15500 x 9000 x 5000 mm
Weight
Approx. 13000 kg
Procedures
Drilling
Thermal Cutting
Contour Marking
Milling
Threading
Reducing
Signing
Rapid advance/return movement
0 mm/min
Drilling unit horizontal (Z- and W-axis)
1 Piece
Drilling units from below (U-axis, optional)
0 Pieces
Drill Size
6,8 – 50 mm
Number of Tools per Axis
7 Pieces
Drive power axe
34,5 kW
Spindle speed max.
3500 min-1
Sheet starting material sheet width
220 – 2600 mm
Sheet starting material sheet length
500 – 6000 (12000) mm
Sheet starting material sheet thickness
6 – 100 mm
Toolchanger x Magazine places
1 x 7 Pieces
Tools
Carbide Tools
HSS-Tools
Solid Carbide Tools
Materialclass
Steel
Process
Plate
Component Length Max.
60 x 60 / 2100 x 6000 (12000) mm
See It Work
Features
Convenient Operation of the System
Plain-text display of machine data and possible error messages
Good observation of the processes and rapid intervention in case of disturbance
---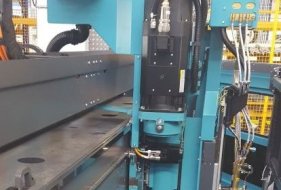 Low Wear & Low Maintenance
Drill carriage mounted on dual play-free, pre-stressed linear guides
Robust mountig for high precision when drilling
---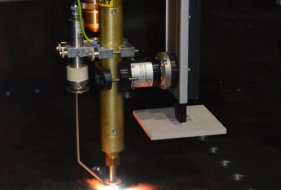 Universal, Economical Gas Cutting Process
Universally implementable gas cutting unit built onto the drilling unit
Automatic height adjustment of the cutting unit
---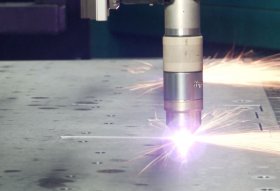 High Cutting Speed
Highest cutting performance and optimum cutting quality
In addition to autogenous gas cutting, a high-performance plasma cutting machine can optionally be used
Common cut and cross-cut technology generates significantly less waste
---
Dust Free Work Environment
System with pre-separator and dust collection container
Filtering unit with eight cartridges in flame retardant design
Automatic filter cleaning
---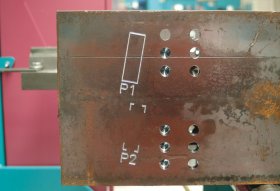 Material Marking by Means of a Milling Tool on the Drill Head
Application of numbers and letters as well as reference boundaries for welding add-on pieces
DSTV-Data import
Use of high-speed carbide tools
---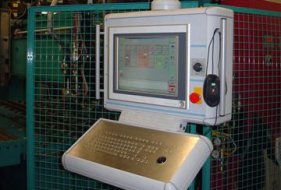 Machine Operation with the Most Up-to-Date Software
Easy data import and export
Automatic or manual nesting
Partial programming possibility via NC-DSTV, DXF or DWG files, integrated drawing program or macros
And much more
---
Service
HELPDESK MODULE
Whether by telephone, email or remote access, with the Helpdesk module you can take advantage of the expertise from our helpdesk team, for telephone advice and support. With remote access we can fix (in 90% of cases) the problem quickly ensuring the highest possible system availability.
Wide ranging and professional fault diagnostics and solution.
Shorter and less frequent service calls through targeted preparation.
Individual advice and support.
MAINTENANCE MODULE
Minimize your downtime and achieve the best possible quality processing results from your KALTENBACH machine, always maintained by us with regular, expert inspection and maintenance – Always at competitive costs!
YOU WILL NEVER NEED TO WORRY ABOUT MAINTENANCE WITH THIS MODULE.
Minimum plant downtime.
Transparent costs.
Cost reduction through early fault detection and elimination.
SPARE PARTS & TOOLS MODULE
Tools, wear parts and consumables. We can give comprehensive advice on all of your needs, their technical suitability and their optimum use. By request we provide you with a monthly, quarterly or annual contract. Spare parts at competitive prices.
WITH ORIGINAL KALTENBACH PARTS YOUR MACHINE LIVES LONGER.
THE SPARE PARTS MODULE WILL ALSO SAVE YOU MONEY.
Reliable and fast delivery.
Guaranteed spare parts supply.
TRAINING & EDUCATION MODULE
Every machine is only as good as it's operator. Regular refresher – Training and / or technology training for your operators and maintenance staff, will not only improve the productivity of your KALTENBACH machine, but also increases the professional qualifications of your employees.
EXPERTISE AND BUILD YOUR KNOWLEDGE THROUGH THE TRAINING MODULE.
Specially tailored to your needs and equipment.
Increasing the life of the machine.
Reducing errors, downtime and setup times.
Ensuring consistent processing and product quality.
Ensuring Factory Settings are maintained by highly trained maintenance personnel.
Why Buy?
Click the testimonials and case studies to see the positive gains your peers are gaining:
Agricultural Machine Engineering, Apparatus Construction, Automotive Sector, Bridge Building, Crane Manufacturer, Facade Construction, Kaltenbach, Machine Construction, On / Offshore, Plate Plasma Cutting, Power Plant Construction, Power Transmission Towers, Shipyard, Steel Construction / Fabrication, Steel Service Centre
Kaltenbach KF 2607 E Plate Processing Centre
Capacity range W x L [mm]: 2600 x 6000
BENEFITS AT A GLANCE
Diverse manufacturing technologies such as drilling, countersinking, thread-cutting, contourmarking, oxyfuel or plasma cutting
Powerful drives for optimum performance and low production times
7-place tool changer for faster setup times
Less space needed for measuring carriage
Increased traversing speed of axes
Durable construction provides the basis for a long-term investment
Common cut for less waste
Auditable, deliverable, measurable and evidence based metrics will be provided so your strategic team can calculate the ROI, capacity increase and man hours reduced from a Kaltenbach KF 2607 E Plate Processing Centre. SMS will evaluate your current position and ongoing strategy, we will then assess any gaps to successfully deliver to your business and your clients.