Kaltenbach KPSA 167 Punching & Shearing Machine
Data
Drive Performance
30 kW
Dimensions (L x W x H)
2065 x 2305 x 2550 mm
Weight
Approx. 10,000 kg
Procedures
Shearing
Punching
Working Range Flatmaterial
160 x 20 mm
Working Range Anglematerial
160 x 160 x 20 mm
Working Range min.
40 x 40 x 5 mm
Drilling Unit Vertical (Y-axis)
1 Piece
Drilling Unit Horizontal (Z and W-axis)
2 Pieces
Vertical Punch Diameter
4 – 39,5 mm
Number of Tools Punch Unit
2 x 3 Pieces
Punching Power
1,200 kN
Angle Shear Single Cut
2,500 kN
Degree of Automation
Automatic Infeed
Automatic Outfeed
Automatic Sorting and Trim of Remnant Cuts
Full-Automatic
Material Class
Steel
Process
Profiles
See It Work
Features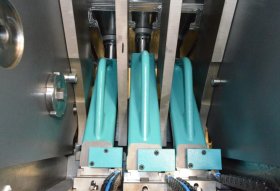 Flange-Punching Unit: High Flexibility
High quality punching and long tool life
---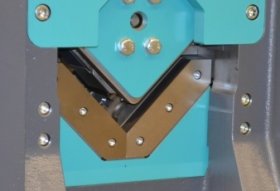 High Quality in Production
Shearing unit in low vibration and durable cast steel construction with multiple use shear blade
---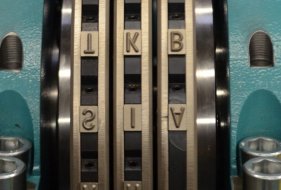 Marking unit with triple marking wheel for angle steel
Each character can be exchanged separately
---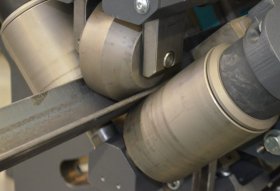 Automatic material thickness measuring
Error prevention during operation process
---
In-/Outfeed Side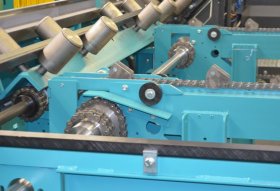 Fast Material Cross Transport
Load-bearing conveyor chains enable the easy, low-noise transport of materials
Ensured supply of materials for optimal process flow
---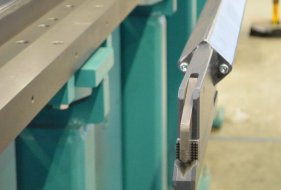 Standard Equipment for Punching- and Shearing Systems
Running on backlash-free linear bearings, with servo-regulated positioning drive with rotary encoder and planetary gearing via rack and pinion
High positioning accuracy
---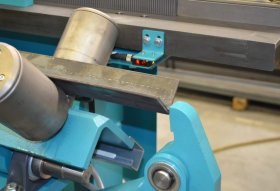 Standard Equipment for Punch-Shear Machines
Automatic Length Measuring
---
Standard Equipment of Punch-Shear Machines
Secure transport of material
---
Optional Equipment Length Measuring System
Good piece/rest bar separator for long parts
---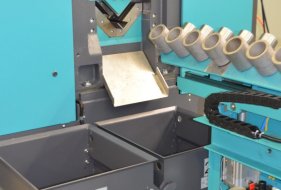 Optional Equoment Transport System
Good piece/scrap separator for short parts
---
Software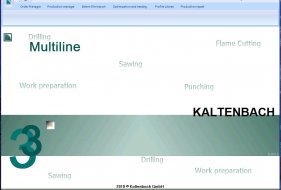 MULTILINE – Easy, user friendly machine operation
Programming of orders via colour touchscreen with large keypads directly on the machine control console
---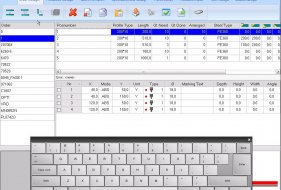 MULTILINE – Order manager
Create, copy and delete orders
Graphic display of individual positions within an order
---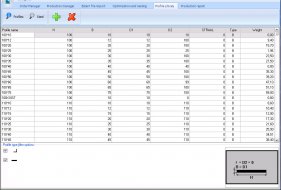 MULTILINE – Profile database
Comprehensive profile database
Easily expandable
Graphic display of workpiece forms
---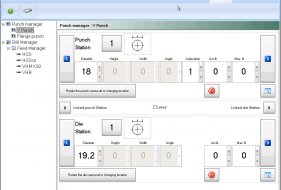 MULTILINE – Tool manager
Tool Changer setup based on the tool type and diameter
---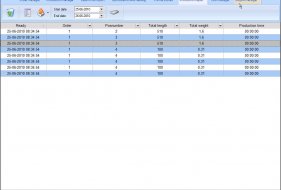 MULTILINE – Production data report
Recording of production times of individual pieces or entire orders
---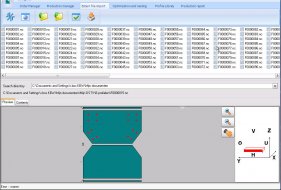 MULTILINE – Data transfer and data response
Data input directly on the machine control console
Data import in DSTV or DSTV+ format
Data export of previously produced parts in DSTV feedback format to any directory
---
Service
HELPDESK MODULE
Whether by telephone, email or remote access, with the Helpdesk module you can take advantage of the expertise from our helpdesk team, for telephone advice and support. With remote access we can fix (in 90% of cases) the problem quickly ensuring the highest possible system availability.
Wide ranging and professional fault diagnostics and solution.
Shorter and less frequent service calls through targeted preparation.
Individual advice and support.
MAINTENANCE MODULE
Minimize your downtime and achieve the best possible quality processing results from your KALTENBACH machine, always maintained by us with regular, expert inspection and maintenance – Always at competitive costs!
YOU WILL NEVER NEED TO WORRY ABOUT MAINTENANCE WITH THIS MODULE.
Minimum plant downtime.
Transparent costs.
Cost reduction through early fault detection and elimination.
SPARE PARTS & TOOLS MODULE
Tools, wear parts and consumables. We can give comprehensive advice on all of your needs, their technical suitability and their optimum use. By request we provide you with a monthly, quarterly or annual contract. Spare parts at competitive prices.
WITH ORIGINAL KALTENBACH PARTS YOUR MACHINE LIVES LONGER.
THE SPARE PARTS MODULE WILL ALSO SAVE YOU MONEY.
Reliable and fast delivery.
Guaranteed spare parts supply.
TRAINING & EDUCATION MODULE
Every machine is only as good as it's operator. Regular refresher – Training and / or technology training for your operators and maintenance staff, will not only improve the productivity of your KALTENBACH machine, but also increases the professional qualifications of your employees.
EXPERTISE AND BUILD YOUR KNOWLEDGE THROUGH THE TRAINING MODULE.
Specially tailored to your needs and equipment.
Increasing the life of the machine.
Reducing errors, downtime and setup times.
Ensuring consistent processing and product quality.
Ensuring Factory Settings are maintained by highly trained maintenance personnel.
Why Buy?
Q1: Why would a steel service centre or fabricator invest in the shear for cutting U, H profiles up to 410mm that is the PERFECT option for TRUSS WEB compared to cope/bandsaw times?
A1: Steel service centres would win more and push ore steel through the Kaltenbach beamline with the shearing unit deployed. Simply open up the bandsaw so the profiles can pass into the shearing unit that can be moved into position from its parking station. Steel Service Centres want to push out output and fabricators wants to receive steel to faster schedules
Q2: Why would a fabricator include the capability to shear H & U profiles with the Kaltenbach Shearing unit in 3 seconds that increases the cost of the beamline considering the bandsaw will still need to be commissioned for larger profiles and mitre cutting?
A2: The fabricator can NOW take on 2-3 projects as the beamline bandsaw is not slowing down the workshops capacity to win a 2nd or 3rd project that may include many trusses. Most fabricators have witnessed the trend for builders to specify trusses so the weight of steel can be removed from the project to reduce the cost of the roof structure. Fabricators understand the footprint and labour required to fabricate steel trusses. With the Kaltenbach beamline layout marking the truss positions on the main 'cord' beams and then shearing the web in 3 seconds compared to bandsaw times the schedule, capacity and profit are all improved so clients of SMS and Kaltetenbach will dominate this space.
Click the testimonials and case studies to see the positive gains your peers are gaining:
Agricultural Machine Engineering, Apparatus Construction, Automotive Sector, Bridge Building, Flatbar & Angle Lines, Kaltenbach, Machine Construction, On / Offshore, Power Plant Construction, Power Transmission Towers, Shipyard, Steel Construction / Fabrication, Steel Service Centre
Kaltenbach KPSA 167 Punching & Shearing Machine
Powerful Punching-Shearing Machine for Angle Steel up to [mm] 160 x 160 x 19
BENEFITS AT A GLANCE
High punching and shearing force
Robust, low-maintenance design for long-term investment
Automatic die clearance setting for optimum shearing results
Quick-change tooling system to minimise idle times
Material transportation speed of 100 m/min for low transportation times
Sorting system for good parts
Triple marking unit marks up to 3 characters a second
The design is influenced by years of experience in punching and shearing
Sturdy construction for low vibration and thus improved punching and shearing results
Compact machine design for space-saving installation
Fast service support through help desk via remote support
Auditable, deliverable, measurable and evidence based metrics will be provided so your strategic team can calculate the ROI, capacity increase and man hours reduced from a Kaltenbach KPSA 167 Punching & Shearing Machine. SMS will evaluate your current position and ongoing strategy, we will then assess any gaps to successfully deliver to your business and your clients.