Kaltenbach KDM 615 Profile Drilling / Beamline Machine
Data
Dimensions (L x W x H)
4570 x 1670 x 3750 mm
Weight
Approx. 6,000 kg
Procedures
Drilling
Contour Marking
Milling
Threading
Reducing
Feedrate
1,500 mm/min
Rapid Advance / Return Movement
20.000 mm/min
Workspace max.
600 x 500 mm
Working Range Profile
600 x 500 mm
Working Range min.
50 x 5 mm
Drilling Unit Vertical (Y-axis)
1 Piece
Drilling Unit Horizontal (Z and W-axis)
2 Pieces
Drill Size
6,8-50 mm
Number of Tools per Axis
5 Piece
Driver Power Axe
29,5 kW
Spindle Speed max.
150 – 2.500 min-1
Tools
HSS-Tools
Carbide Tools
Solid Carbide Tools
Degree of Automation
Automatic Infeed
Automatic Outfeed
Full-Automatic
Material Class
Steel
Process
Profiles
See It Work
Features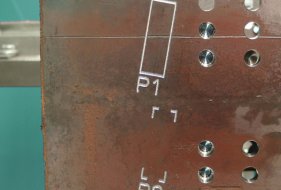 Material Marking by Means of a Milling Tool on the Drill Head
Application of reference boundaries for welding add-on pieces
DSTV-Data import
Use of high-speed carbide tools
In addition to the three drill axis – marking from the bottom (4th axis)
---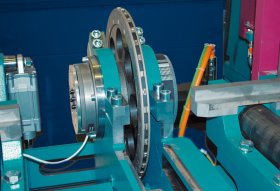 Fast Marking Process
Fast marking process for applying letters and numerals
Up to 22 characters without material movement
Can be integrated into fully-automated handling processes
Imprint still clearly visible after galvanizing or painting
---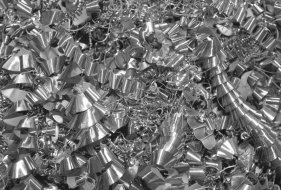 User Friendly
Automatic, continual swarf removal
Can be Installed on either side of the machine
---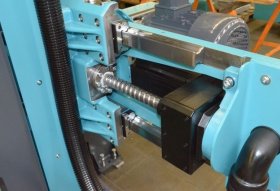 High Drilling Performance
Drill feed via ballscrew spindle and servo motor
Constant and repeatable feed rates
Use of HSS, carbide and solid carbide tools
SK 40 tool holder
---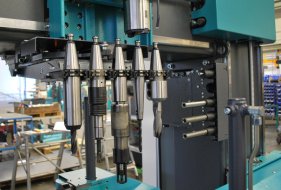 Short Changing Times for Tools
Automatic tool change on all drilling units for the most common tool sizes (magazine capacity 3 x 5)
Linear tool magazine positioned directly alongside the drilling axes
Tool change automatically sets the correct speed and feed rate values
Automatic drill length sensing
---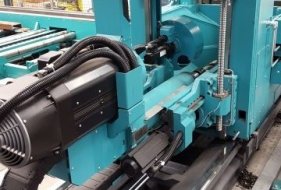 Low Wear and Low Maintenance
Drill carriage mounted on dual play-free, pre-stressed linear guide elements
High precision during axis movement and when drilling
Ball screw with servomotor for high-precision positioning
---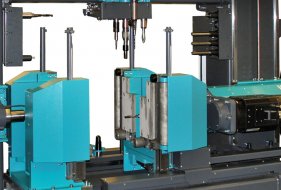 Automatic Material Clamping and Material Measurement
Horizontal clamping device with fixed and movable clamping jaws and long-stroke clamping cylinder
Vertical clamping device with four hold-down devices for clamping the material to the machine rollers
The clamping devices measure the height and width of the section to be processed for material cross-checking control
Optimum clamping of the workpiece during the drilling process
---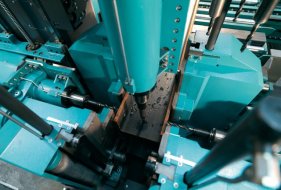 Machining diversity
NC-controlled cutting angle setting. Powerful clamping system to ensure high cutting quality and long saw band life
---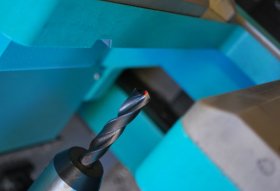 Drilling length measurement
Light barrier for automatic drilling length measurement
---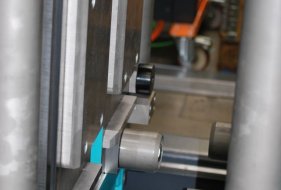 Clamping System
Powerful and reliable clamping system reduces vibrations and so prolongs tool life
Intelligent material management and dimensional tolerance control
---
In-/Outfeed Side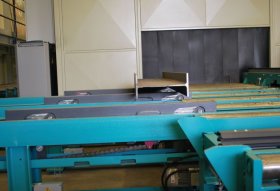 Connection to Steel Roller Conveyor
Cross Transport by Means of Lift-and-Carry System (As an Alternative to Drag Chains)
---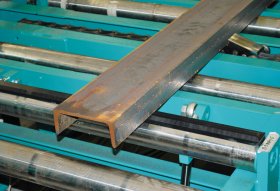 Low-Noise Material Cross Transport
By lightly raising the material using polyamide-coated rollers integrated into the roller conveyor, the traditional "steel on steel" noise from cross transporting profiles is significantly reduced. Transport technology in steel construction and steel trading will be revolutionized through this new system.
Fully-automatic control
Contributes to enhanced occupational safety and the protection of personnel and the environment
---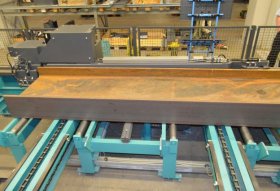 Space Saving Measuring System on the Feed Side
M 152 GG Sliding Measuring Carriage with Two Grippers
---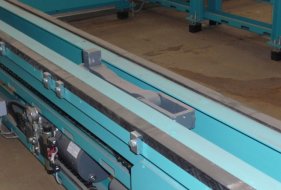 Cross Transport with lifting pins
Cross Transport with lifting pins
---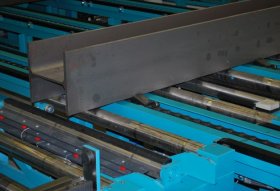 Fast Material Cross Transport
Material stock in heavy-duty steel construction
Sliding rails of synthetic material (polyamide) for low-noise material cross transport
Drag chains with transport claws
Drive system with continuously-variable frequency-controlled gear motor
---
T 13 Transport System for Steel Construction and Steel Service Centers
T 13 Modular Expandable Conveyor Roller System
---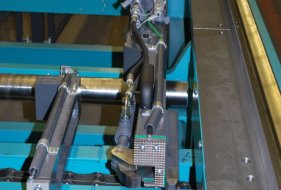 Universal Measuring System on the Feed Side
M 151 G Sliding Measuring Carriage with Gripper
---
Software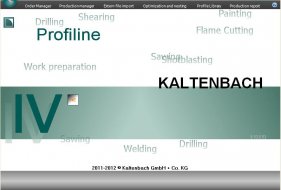 PROFILINE – Easy, user friendly machine operation
Programming of orders via color touchscreen with large keypads directly on the machine control console
---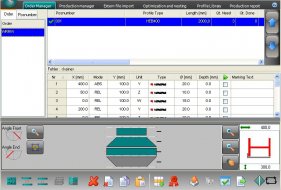 PROFILINE – Order manager
Create, copy and delete orders
Graphic display of individual positions within an order
---
PROFILINE – Profile database
Comprehensive profile database
Easily expandable
Graphic display of workpiece forms
---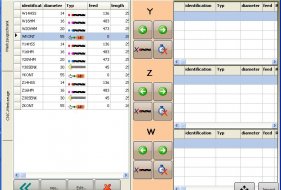 PROFILINE – Tool manager
Tool Changer setup based upon the tool type and diameter
Allocation of the drill diameter to rotational speed settings and feed rates
---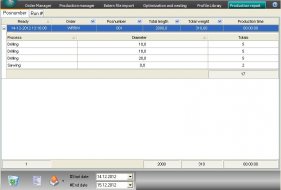 PROFILINE – Production data report
Recording of production times of individual pieces or entire orders
---
PROFILINE – Data transfer and data response
Data input directly on the machine's control console
Data import in DSTV or DSTV+ format
Data export of previously produced parts in DSTV feedback format to any directory
---
Service
HELPDESK MODULE
Whether by telephone, email or remote access, with the Helpdesk module you can take advantage of the expertise from our helpdesk team, for telephone advice and support. With remote access we can fix (in 90% of cases) the problem quickly ensuring the highest possible system availability.
Wide ranging and professional fault diagnostics and solution.
Shorter and less frequent service calls through targeted preparation.
Individual advice and support.
MAINTENANCE MODULE
Minimize your downtime and achieve the best possible quality processing results from your KALTENBACH machine, always maintained by us with regular, expert inspection and maintenance – Always at competitive costs!
YOU WILL NEVER NEED TO WORRY ABOUT MAINTENANCE WITH THIS MODULE.
Minimum plant downtime.
Transparent costs.
Cost reduction through early fault detection and elimination.
SPARE PARTS & TOOLS MODULE
Tools, wear parts and consumables. We can give comprehensive advice on all of your needs, their technical suitability and their optimum use. By request we provide you with a monthly, quarterly or annual contract. Spare parts at competitive prices.
WITH ORIGINAL KALTENBACH PARTS YOUR MACHINE LIVES LONGER.
THE SPARE PARTS MODULE WILL ALSO SAVE YOU MONEY.
Reliable and fast delivery.
Guaranteed spare parts supply.
TRAINING & EDUCATION MODULE
Every machine is only as good as it's operator. Regular refresher – Training and / or technology training for your operators and maintenance staff, will not only improve the productivity of your KALTENBACH machine, but also increases the professional qualifications of your employees.
EXPERTISE AND BUILD YOUR KNOWLEDGE THROUGH THE TRAINING MODULE.
Specially tailored to your needs and equipment.
Increasing the life of the machine.
Reducing errors, downtime and setup times.
Ensuring consistent processing and product quality.
Ensuring Factory Settings are maintained by highly trained maintenance personnel.
Agricultural Machine Engineering, Apparatus Construction, Automotive Sector, Beamline & Coping Robot, Bridge Building, Kaltenbach, Machine Construction, On / Offshore, Power Plant Construction, Power Transmission Towers, Shipyard, Steel Construction / Fabrication, Steel Service Centre
Kaltenbach KDMK 615 Profile Drilling / Beamline Machine
Powerful Drilling for Profiles
Capacity range W x H [mm]: 600 x 500 and Number of Tools: 15
BENEFITS AT A GLANCE
Capacity Range (w x h): 600 × 500 mm
Robust, low-vibration design prolongs machine and tool life
Machine portal in robust welded construction incorporating two horizontal and one vertical drilling unit
Three drill axes with a total of 15 tools and automatic tool-changing system
Powerful drives and modern spindle construction for high- performance machining
Efficient drilling, contour-marking, centre-marking, counter-sinking and thread-cutting on all three drill axes simultaneously
Powerful clamping system reliably holds material and reduces vibrations to prolong band life
Intelligent material measurement integrated into clamping system for greater process reliability
Rapid/working feed concept for shorter idle times
Servomotor and ball screw for high-precision drill axis positioning and feed control
A saw can be incorporated to create a saw-drill combination
Milling of standard contours
Carbide and solid carbide drills can be used to significantly reduce production times
Auditable, deliverable, measurable and evidence based metrics will be provided so your strategic team can calculate the ROI, capacity increase and man hours reduced from a Kaltenbach KDM 615 Profile Drilling / Beamline Machine. SMS will evaluate your current position and ongoing strategy, we will then assess any gaps to successfully deliver to your business and your clients.