Kaltenbach Marathon A2506 Shotblast Machine
Data
Procedures
Shotblasting
Workspace max.
2.500 x 600 mm
Working Range Plate
2.500 x 50 mm
Working Range Profile
1.000 x 400 mm
Passage Range
2.600 x 650 mm
Number of Turbines
6 Pieces
Drive Performance per Turbine
15 – 22 kW
Degree of Automation
Automatic Infeed
Automatic Outfeed
Full-Automatic
Materialclass
Steel
Process
Profiles
Plate
See It Work
Features
Regeneration of Shotblasting Abrasive
Recirculation of shotblasting abrasive
Low operating costs
Complete with return stop and rpm monitor for safe operation
---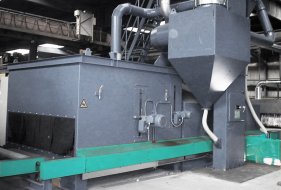 Optimum Cleaning of Shotblasted Parts
Blasting abrasive conveying system, brushes and blowers are integrated into an adjustable supporting frame
Precise adjustment to remove the shotblasting abrasives
Easy control and changing of the brushes
---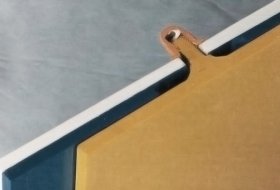 High Stability, Low Wear, Low Running Costs
The outer hull is made of construction steel and ensures high stability of the entire system through its bolted manganese lining
High resistance to wear
The manganese lining can be quickly and easily exchanged when worn
---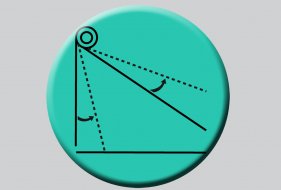 Optimum Shotblasting Results
Turbine adjustment according to the size of plate and profile
Higher feedthrough speeds
Less wear to the machine housing
---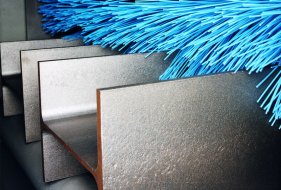 Manageable Operating Costs
Operating speed designed for BSA = 2.5 with material grades S235JR NEN-EN
---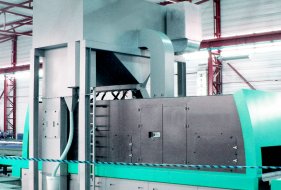 Maintenance & Inspection Made Easy
Protected platform for inspections
Easy accessibility to filters
Maintenance friendly
---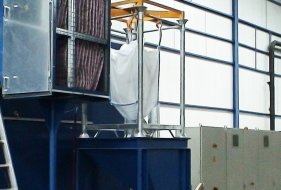 Automatic Shotblasting Abrasive Refilling
Control of the filling level in the shotblasting abrasive container; when at minimum level shotblasting abrasive is automatically added
---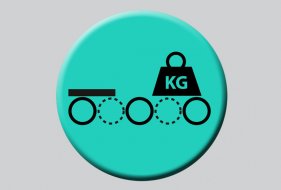 Selectable Options
Shotblasting of thin materials
Shotblasting of heavy materials
Shotblasting of short materials
---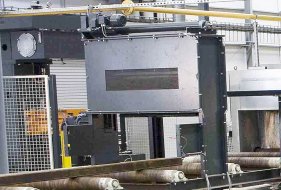 Removal of Water and Snow
Blow-off of water and snow (max. water film: 0.5 mm) prior to material processing
Steel construction with permanently-installed cross-flow fan (optionally with automatic height adjustment)
---
Stocking Shotblasting Abrasive
Sufficient supply of shotblasting abrasive for a continuous process
Automatic refill container (optional)
---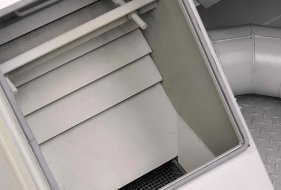 Shotblasting Abrasive Free from Dust and Scale
Optimum, multi-level cascading air cleaner removes dust and scale from shotblasting abrasive
Good shotblasting results even with repeated use of the abrasive
---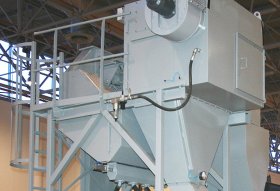 Reduction in Use of Shotblasting Abrasive
Separation of shotblasting abrasive and vacuumed air
Long cartridge filter life
Low shotblasting abrasive use
---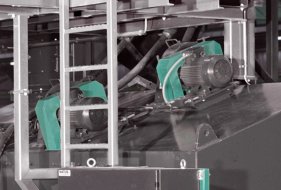 Lower Operating Costs through Direct Drive
Double-disc turbine wheel with eight blades for optimum shotblasting abrasive delivery
The turbine is driven by an electric motor via belt drive
Vertical mounting to the feedthrough direction. Thus optimum shotblasting results at the highest feedthrough speeds
---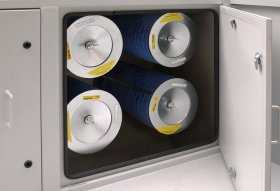 Clean Work Environment
Purification of the vacuumed air (< 1 mg / m2) by means of cartridge filters (without the use of additional filters)
Return of purified air to the work environment
Long cartridge filter life and thus low operating costs
---
Optimum Temperatures
Four burners (two each upper and lower)
Adjustable temperature range
Extremely low gas consumption
The preheating furnace is connected to the after-dryer by means of a duct system, heated air can thus be used in the drying process
---
In-/Outfeed Side
T 13 Transport System for Steel Construction and Steel Service Centers
T 13 Modular Expandable Conveyor Roller System
---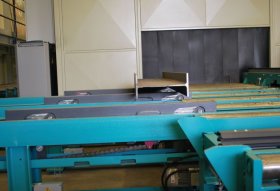 Connection to Steel Roller Conveyor
Cross Transport by Means of Lift-and-Carry System (As an Alternative to Drag Chains)
---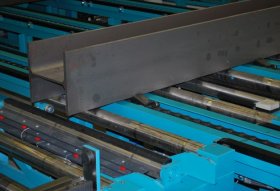 Fast Material Cross Transport
Material stock in heavy-duty steel construction
Sliding rails of synthetic material (polyamide) for low-noise material cross transport
Drag chains with transport claws
Drive system with continuously-variable frequency-controlled gear motor
---
Transport System
Transport system T15
---
Service
HELPDESK MODULE
Whether by telephone, email or remote access, with the Helpdesk module you can take advantage of the expertise from our helpdesk team, for telephone advice and support. With remote access we can fix (in 90% of cases) the problem quickly ensuring the highest possible system availability.
Wide ranging and professional fault diagnostics and solution.
Shorter and less frequent service calls through targeted preparation.
Individual advice and support.
MAINTENANCE MODULE
Minimize your downtime and achieve the best possible quality processing results from your KALTENBACH machine, always maintained by us with regular, expert inspection and maintenance – Always at competitive costs!
YOU WILL NEVER NEED TO WORRY ABOUT MAINTENANCE WITH THIS MODULE.
Minimum plant downtime.
Transparent costs.
Cost reduction through early fault detection and elimination.
SPARE PARTS & TOOLS MODULE
Tools, wear parts and consumables. We can give comprehensive advice on all of your needs, their technical suitability and their optimum use. By request we provide you with a monthly, quarterly or annual contract. Spare parts at competitive prices.
WITH ORIGINAL KALTENBACH PARTS YOUR MACHINE LIVES LONGER.
THE SPARE PARTS MODULE WILL ALSO SAVE YOU MONEY.
Reliable and fast delivery.
Guaranteed spare parts supply.
TRAINING & EDUCATION MODULE
Every machine is only as good as it's operator. Regular refresher – Training and / or technology training for your operators and maintenance staff, will not only improve the productivity of your KALTENBACH machine, but also increases the professional qualifications of your employees.
EXPERTISE AND BUILD YOUR KNOWLEDGE THROUGH THE TRAINING MODULE.
Specially tailored to your needs and equipment.
Increasing the life of the machine.
Reducing errors, downtime and setup times.
Ensuring consistent processing and product quality.
Ensuring Factory Settings are maintained by highly trained maintenance personnel.
Why Buy?
Click the testimonials and case studies to see the positive gains your peers are gaining:
Automotive Sector, Crane Manufacturer, Kaltenbach, Machine Construction, On / Offshore, Rolling Mills, Shipyard, Shot Blasting, Steel Construction / Fabrication, Steel Service Centre, Surface Treatment Service Centre
Kaltenbach Marathon A2506 Shotblast Machine
Shotblasting for Continuous Operations
Capacity range [mm]: 2500 x 600 and Number of Turbines: 6
BENEFITS AT A GLANCE
Aperture size (w x h): 2.600 x 650 mm
Six turbines (15 – 22 kW each)
The solution for steel traders, steel fabricators and steelworks, as well as shipyards in shift operation
Triple housing (steel / manganese steel / exchangeable manganese-steel internal lining)
Maintenance and user friendly
Auditable, deliverable, measurable and evidence based metrics will be provided so your strategic team can calculate the ROI, capacity increase and man hours reduced from a Kaltenbach Marathon A2506 Shotblast Machine. SMS will evaluate your current position and ongoing strategy, we will then assess any gaps to successfully deliver to your business and your clients.