Kaltenbach KKS 400 NA Circular Sawing Machine
Data
Drive Performance
1,8 / 2,7 kW
Dimensions (L x W x H)
3140 x 1950 x 1805 mm
Weight
Approx. 1,700 kg
Procedures
Sawing
Sawblade
400 Ø mm
Cutting Speed
13/26; 10/20; 15/30 m/min
Feedrate
0 – 1.000 mm/min
Rapid Advance / Return Movement
3.300 mm/min
Workspace max.
130 mm
Working Range Square
120 mm
Working Range Flatmaterial
305 x 20 mm
Working Range Roundmaterial
130 mm
Mitre Range
0 – 180°
Tools
HSS-Tools
Degree of Automation
Automatic Infeed
Full-Automatic
Material Class
Stainless Steel
Non-ferrous Metal
Steel
Process
Profiles
Solid Material
Single Stroke Length
1.000 mm
Multiple Stroke Length
10 – 9.999 mm
See It Work
Features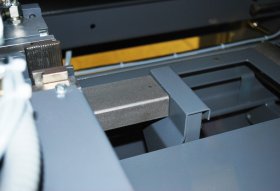 Automatic Zero-Point Recognition
High level of automation of preset sawing tasks, e.g., with pre-connected magazine
---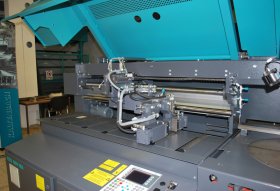 Automated Sawing Process
Efficient processing of medium and large batches
Minimal end-piece lengths due to optimized gripper contour
Multiple-stroke for cutting lengths up to 9.999 mm
---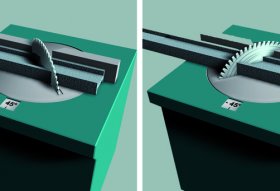 High Level of Automation
Automatic pivoting between two angles (optional)
Automatic, program-controlled processing of cutting sequences
---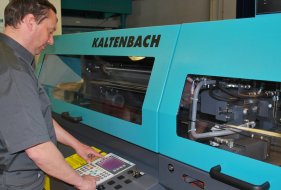 High Productivity through Recallable Saw Programming
Storing of programs with different sawing tasks
Bar/quantity-oriented mode of operation
---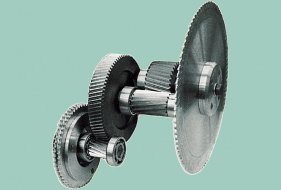 Precise Cuts
Robust, powerful drive with hardened and ground helical gears
Smooth operation
---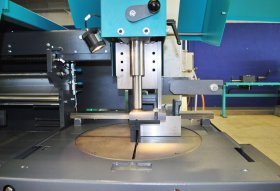 Workpiece Clamping
135 mm stroke
Large scale pressure piece for secure clamping on both sides of the saw blade
Hand crank for pre-adjustment
Flexible in material measurement, especially within wide limits
---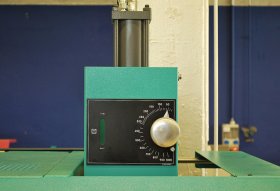 Individual Feed Adjustment
Universal, infinitely-variable adjustment, even during the sawing process
Lower feed rate with stainless steels, higher feed rate for tubes
Feed movement via hydraulic cylinder
---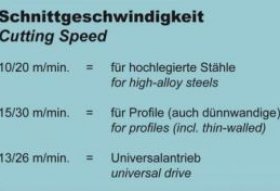 Material Related Cutting Speed
Adaptable to the material
Two cutting speeds as standard
---
In-/Outfeed Side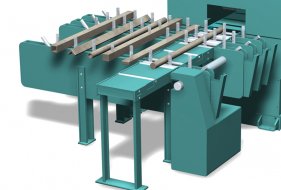 Automatic Bar Infeed
FM 1 Flat Magazine
---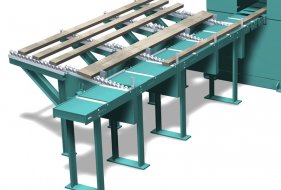 Automatic Bar Infeed
LM 1 Loading Magazine
---
Standard Version for Circular Sawing Machines
L 45 E Length Measuring Device with Outfeed Roller Conveyor
---
Convenient and Sturdy Standard Version for Circular Sawing Machines
Manual adjustment via hand wheel and digital display
Fast and precise adjustment for accurate cuts
Measuring device extendable in units of 1000 or 2000 mm
Available in left and right-hand models
---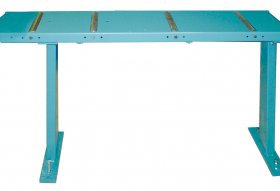 T3 Transport System for Circular Saws
For material feed and removal with circular saws
Ball-bearing light-running rollers
Operating width: 330 mm / Roller diameter: 60 mm
---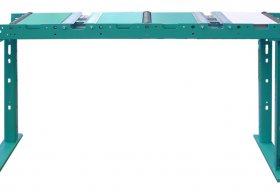 T 4 Transport System for Circular Saws
For material feed and removal with circular saws
Solid rollers running in ball bearings, optionally available with drive
Operating width: 390 mm / Roller diameter: 60 mm
---
Service
HELPDESK MODULE
Whether by telephone, email or remote access, with the Helpdesk module you can take advantage of the expertise from our helpdesk team, for telephone advice and support. With remote access we can fix (in 90% of cases) the problem quickly ensuring the highest possible system availability.
Wide ranging and professional fault diagnostics and solution.
Shorter and less frequent service calls through targeted preparation.
Individual advice and support.
MAINTENANCE MODULE
Minimize your downtime and achieve the best possible quality processing results from your KALTENBACH machine, always maintained by us with regular, expert inspection and maintenance – Always at competitive costs!
YOU WILL NEVER NEED TO WORRY ABOUT MAINTENANCE WITH THIS MODULE.
Minimum plant downtime.
Transparent costs.
Cost reduction through early fault detection and elimination.
SPARE PARTS & TOOLS MODULE
Tools, wear parts and consumables. We can give comprehensive advice on all of your needs, their technical suitability and their optimum use. By request we provide you with a monthly, quarterly or annual contract. Spare parts at competitive prices.
WITH ORIGINAL KALTENBACH PARTS YOUR MACHINE LIVES LONGER.
THE SPARE PARTS MODULE WILL ALSO SAVE YOU MONEY.
Reliable and fast delivery.
Guaranteed spare parts supply.
TRAINING & EDUCATION MODULE
Every machine is only as good as it's operator. Regular refresher – Training and / or technology training for your operators and maintenance staff, will not only improve the productivity of your KALTENBACH machine, but also increases the professional qualifications of your employees.
EXPERTISE AND BUILD YOUR KNOWLEDGE THROUGH THE TRAINING MODULE.
Specially tailored to your needs and equipment.
Increasing the life of the machine.
Reducing errors, downtime and setup times.
Ensuring consistent processing and product quality.
Ensuring Factory Settings are maintained by highly trained maintenance personnel.
Why Buy?
Q1. Why is Kaltenbach the only manufacture in the world to include a drilling spindle option for their full automatic circular saw?
A1: Galvanising venting specification for welded SHS/RHS/CWS require a hole to allow venting and galvanising draining for safety or the parts will not be galvanised. Kaltenbach designed this functionality for example customers production big quantities of tubes (stables, scaffolding or the greenhouse fabricators in the Netherlands and now this capability has allowed Kaltenbach customers a competitive advantage to win more and does more with less headcount and improved margins. Refer to Saftey in venting holes galvanizing welded RHS/SHS/CWS profiles structures fittings supplied from the Galvanizing Association of Australia.
Q2. Why are steel service centres investing in a KKS fully automatic saw with drilling when they already have a 1990 designed beamline working hard labour 20 hours a day?
A2: The steel service centre can remove small profiles from the beamline to increase capacity and remove schedule pressure from that beamline. The steel centre can load bundles of profiles into the automatic load and walk away from the machine and have the KKS with drilling working in lights out mode. The drilling unit allows the profile to meet the galvanising specification for draining holes that allows the profiles to be removed from the beamline. Beside that, KKS Fully Automatic saw can process small material, starting from 5 mm height and cut up to 3 angles at the front and backside of profiles (used for example as welding preparation).
Q3. Why is a fabricator or steel service centre investing in a fully automated circular saw with bundle loading, drilling and lights out automation when they could invest in a tube laser instead?
A3: The circular saw technology is cost-effective to run and almost as fast as a laser at only 25% of the cost. Most profiles can be processed on the KKS circular saw so the additional capability and investment cost from the tube laser is not required so the ROI is not available for price-sensitive parts. Specially for mitre cutting application, the saw delivers much better results. Also, a laser a limited to certain material shape and thickness. The saw is universal for nearly all profiles shapes as well as for cutting solid material.
Click the testimonials and case studies to see the positive gains your peers are gaining:
Automotive Sector, Circular Sawing, Crane Manufacturer, Elevator-Building, Facade Construction, Furniture, Kaltenbach, Locksmith's Shops, Machine Construction, Metal Construction, Shipyard, Stairs Construction, Steel Construction / Fabrication, Steel Service Centre
Kaltenbach KKS 400 NA Circular Sawing Machine
Fully-Automatic Universal Circular Saw for Materials Up to Ø 130 mm
BENEFITS AT A GLANCE
Standard saw blade: Ø 400 mm
Mitre cuts +/- 90 Degrees
Automatic processing of flat, angle and solid materials, tubes and special profiles
Optimum swarf flow through the KALTENBACH "cut from below" principle
High cutting quality through workpiece clamping on both sides of the saw blade and infinitely variable adjustment of the saw-blade feed, as well as contactless saw blade return stroke
Short cutting and cycle times through electronic cutting-height adjustment and rapid reverse motion of the saw blade
Minimal end-piece lengths due to special gripper design
Simple operation and programming via NC control
Space saving installation
Auditable, deliverable, measurable and evidence based metrics will be provided so your strategic team can calculate the ROI, capacity increase and man hours reduced from a Kaltenbach KKS 400 NA Circular Sawing Machine. SMS will evaluate your current position and ongoing strategy, we will then assess any gaps to successfully deliver to your business and your clients.