Kaltenbach KDU 250 Profile Drilling / Beamline Machine
Data
Dimensions (L x W x H)
2000 x 1375 x 2500 mm
Weight
Approx. 2,500 kg
Supply & Discharge Side
Drilling
Threading
Reducing
Rapid Advance / Return Movement
9,000 mm/min
Workspace max.
250 x 250 mm
Working Range min.
50 x 20 mm
Drilling Unit Vertical (Y-axis)
1 Piece
Drilling Unit Horizontal (Z and W-axis)
3 Pieces, 2 (optional)
Drilling units from below (U-axis, optional)
1 Piece
Drill Size
26 mm
Number of Tools per Axis
1 Piece (optional 3)
Driver Power Axe
4 kW
Spindle Speed max.
200 – 2000 min-1
Tools
HSS-Tools
Degree of Automation
Automatic Infeed
Automatic Outfeed
Material Class
Steel
Working Processes
Profiles
See It Work
Features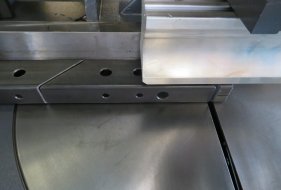 Machining diversity
Efficient drilling, punching, countersinking and thread cutting on all drilling axes and optional saw cut
---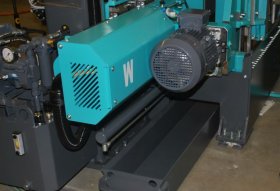 Space Saving Design
Swarf tray mounted on rollers
Optional swarf conveyor for automated, continuous swarf removal
---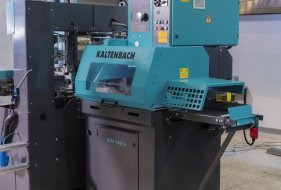 Saw-dril-line
In combination with circular saw KKS or bandsaw KBS as automatic saw-dill-line
---
Simultaneous Handling from up to four sides
Easy manual tool change at every drilling unit, optional tool changer
Drilling 

possible from below
---
Low wear and low maintenance
Drill carriage mounted on dual play-free, pre-stressed linear guide elements
High precision during axis movement and when drilling
Ball screw with servomotor for high-precision positioning
---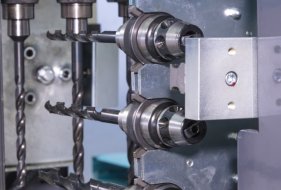 Tool changer (Option)
3 tools per axis
MK3 tool holder
---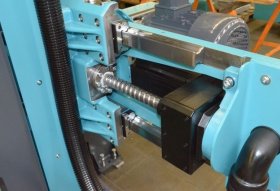 High Drilling Capacity
Drilling feed via ballscrew spindle and servo motor
Constant and repeatable feed rates
Use of HSS tools
---
Service
HELPDESK MODULE
Whether by telephone, email or remote access, with the Helpdesk module you can take advantage of the expertise from our helpdesk team, for telephone advice and support. With remote access we can fix (in 90% of cases) the problem quickly ensuring the highest possible system availability.
Wide ranging and professional fault diagnostics and solution.
Shorter and less frequent service calls through targeted preparation.
Individual advice and support.
MAINTENANCE MODULE
Minimize your downtime and achieve the best possible quality processing results from your KALTENBACH machine, always maintained by us with regular, expert inspection and maintenance – Always at competitive costs!
YOU WILL NEVER NEED TO WORRY ABOUT MAINTENANCE WITH THIS MODULE.
Minimum plant downtime.
Transparent costs.
Cost reduction through early fault detection and elimination.
SPARE PARTS & TOOLS MODULE
Tools, wear parts and consumables. We can give comprehensive advice on all of your needs, their technical suitability and their optimum use. By request we provide you with a monthly, quarterly or annual contract. Spare parts at competitive prices.
WITH ORIGINAL KALTENBACH PARTS YOUR MACHINE LIVES LONGER.
THE SPARE PARTS MODULE WILL ALSO SAVE YOU MONEY.
Reliable and fast delivery.
Guaranteed spare parts supply.
TRAINING & EDUCATION MODULE
Every machine is only as good as it's operator. Regular refresher – Training and / or technology training for your operators and maintenance staff, will not only improve the productivity of your KALTENBACH machine, but also increases the professional qualifications of your employees.
EXPERTISE AND BUILD YOUR KNOWLEDGE THROUGH THE TRAINING MODULE.
Specially tailored to your needs and equipment.
Increasing the life of the machine.
Reducing errors, downtime and setup times.
Ensuring consistent processing and product quality.
Ensuring Factory Settings are maintained by highly trained maintenance personnel.
Beamline & Coping Robot, Featured, Kaltenbach
Kaltenbach KDU 250 Profile Drilling / Beamline Machine
Drilling Machine for Profiles
Capacity range W x H [mm]: 250 x 250
BENEFITS AT A GLANCE
Capacity Range (w x h): 250 × 250 mm
Robust, low-vibration design prolongs machine and tool life
Machine portal in robust welded construction
Efficient drilling, centre-marking, counter-sinking and thread-cutting on all drill axes simultaneously
Powerful clamping system reliably holds material and reduces vibrations to prolong band life
Rapid/working feed concept for shorter idle times
Servomotor and ball screw for high-precision drill axis positioning and feed control
A saw can be incorporated to create a saw-drill combination with circular saw KKS 450 U or band saw KBS 400 DG
Manual quick-change chuck
Tool-centric processing minimises tool changes
Use of HSS drills
Up to four drill axes each with one drilling tool, optional with 3-place tool changer
Auditable, deliverable, measurable and evidence based metrics will be provided so your strategic team can calculate the ROI, capacity increase and man hours reduced from a Kaltenbach KDU 250 Profile Drilling / Beamline Machine. SMS will evaluate your current position and ongoing strategy, we will then assess any gaps to successfully deliver to your business and your clients.